The Electronic Arts program is an interdisciplinary program in which students from animation, video production, sound design, music composition, audio recording, and multimedia collaborate on projects much larger and more complex than any single student alone could create.
DEGREE OPTIONS
ADVISEMENT RESOURCES
CAREERS AND OUTCOMES
art, gaming, advertising, film, television, visual effects, education
CONTACT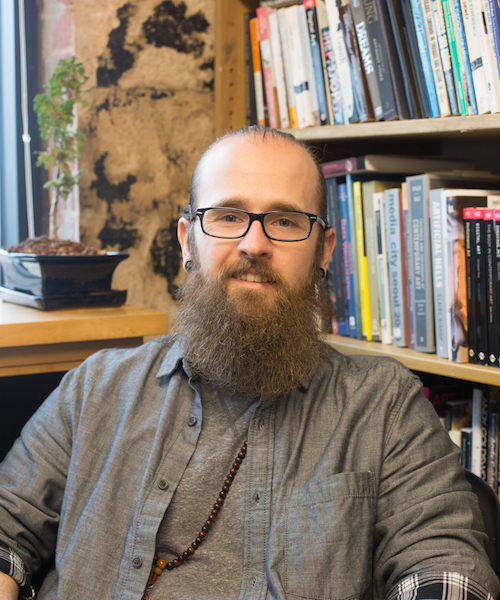 OTHER ELECTRONIC ARTS FACULTY
Vonda Yarberry, MFA. Professor.
Admission requirements
Preadmission Core Courses: complete 9 hours with a GPA of 3.00 or higher from the following Electronic Arts preadmission core courses before applying to the program: ART 100(3), MED 290(3), MED 365(3), MUS 216(3). Core courses in the student's chosen option must be completed before applying.
Initial portfolio review
Portfolio must include a minimum of two and a maximum of three examples of audio, video, interactive new media, and/or computer animation work, with at least one example coming from the preadmission core course in the option area to which the student is applying. Students seeking admission to the Electronic Arts program in the area of Computer Animation Studies must include at least one work from ART 230 or ART 330. Specific guidelines are required for portfolios. See advisor or the Electronic Arts Coordinator for details.
Program requirements
General Education Requirements - see General Education Program and Requirements section of catalog
Major Requirements (37 hours)

Choose one of the following options (18 hours):

Successful completion of the junior portfolio review and the achievement of a "C" or better grade in all required option courses completed at the time of the junior portfolio review must be achieved before admission to ART 498/MED 498, Senior Project in Electronic Arts, will be granted.

Public Affairs Capstone (PAC) Experience – all students are required to complete a three hour PAC by completing one of the following options:

ART 498 – senior thesis project is directly related to cultural competence, community engagement, and/or ethical leadership issues. The PA component of the senior project will be defined specifically when the senior project is approved by the faculty team teaching the course.

Study Away Experience – a study away experience of at least three hours will automatically meet the PAC requirement. Students will be expected to address issues related to cultural competency in their self-reflective report at the end of the study away experience.

ART 399 – a three hour independent study will meet the PAC requirement when it involves a substantial component involving community engagement or cultural competency.

Minor Required. Note: No more than 6 hours may count for both the major and the minor.
General Baccalaureate Degree Requirements - see General Baccalaureate Degree Requirements section of catalog