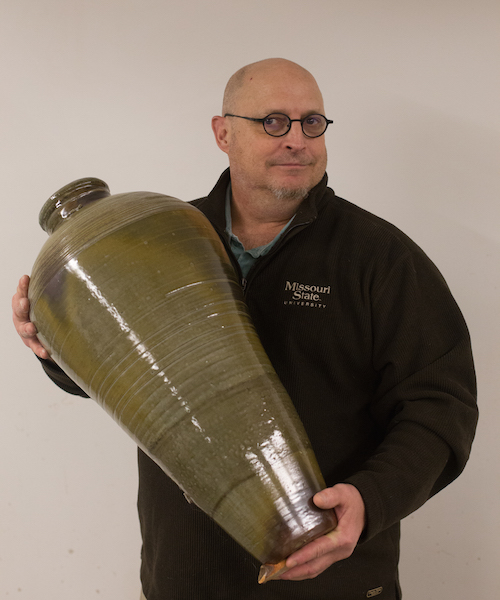 Associate Professor
---
Department
Role: Faculty
Campus: Springfield
---
Postal mail
Missouri State University
Art and Design
901 S. National Ave.
---
Details
Education
MFA, Indiana University, Bloomington, Ind.
BA, College of the Ozarks, Pt. Lookout, Mo.
Teaching
ART 101 3-Dimensional Design Theories
ART 212 Ceramics I
ART 312 Ceramics II
ART 313 Ceramics III
ART 314 Special Topics in Ceramics
ART 399 Individual Instruction
Professional experience
Associate Professor of Art, Sculpture/Ceramics, Missouri State University, Springfield, Mo., 2002-present
Associate Professor of Art, Ceramics, Vincennes University, Vincennes, Ind., 1990-2002
Selected exhibitions
2017 "1st Annual Off Center: International Ceramic Art Competition," Coker Family Gallery, Blue Line Arts, Roseville, Calif.
2017 "SIP: A Ceramic Cup Show," Savannah Clay Community, Non-Fiction Gallery, Savannah, Ga.
2015 "River2River: A Regional Juried Exhibition," The Ceramics Center, Cedar Rapids, Iowa
Selected visiting artist resedencies
2014 Artist in Residence, Sachaqa Art Center in San Roque De Cumbaza, Peru
2013 Artist in Residence, Watershed Center for the Ceramic Arts, Newcastle, Maine
2010 Artist in Residence, The Pottery Workshop, Jingdezhen, China, P.R.C.
Research and professional interests
Ceramics
Ceramics History
Firing a variety of Woodkilns
Sculpture
Awards and honors
2016 "College of Arts and Letters Special Projects Grant," co-submitted with Keith Ekstam for assistance with the "Generations" exhibition at the Filipino Cultural Center in Overland Park, Kan.
2014 Missouri State University Faculty Research Grant
2010 Missouri State University Sabbactial Research Leave